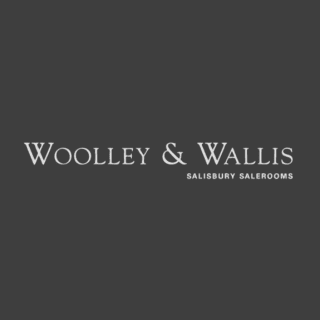 John Axford and Paul Viney in front of the scroll painting by Zhang Daqian, which sold earlier this year for £2.6m.
Major changes are afoot among the Board of Directors at leading regional auction firm, Woolley and Wallis, as current Chairman, Paul Viney, steps down after 20 years. An auctioneer for almost 50 years, Mr Viney joined the Salisbury firm of fine art auctioneers in 1995 as Managing Director, stepping up to the role of Chairman in 2000 following the retirement of Tim Woolley. Over the course of his 25 years at the company, Viney has witnessed significant growth and changes, including the introduction and establishment of several new departments, the rapid expansion of the Asian Art market, the cessation of the company's bi-weekly general sales, and the sale of eleven lots over a million pounds, starting with the sale of a 14th century Chinese porcelain vase in 2005 and ending with the sale of a Chinese contemporary painting by Zhang Daqian in May of this year.
It is a record that current Deputy Chairman, John Axford, is keen to build on when he takes over the reins as Chairman on 1stSeptember. Axford has spent most of his career at Woolley and Wallis, which he joined in 1993 as a graduate trainee valuer, later running the Ceramics and Glass department, and for over 15 years he has been responsible for the development and running of the firm's Asian Art department, which has been so key to its ongoing success. He will continue to run the department alongside his duties as Chairman.
Other changes on the board see current Managing Director, Clive Stewart-Lockhart, appointed as Deputy Chairman, and the appointment of current Finance Director, Natalie Milsted, to Managing Director. Paul Viney will remain on the board as a non-executive director and will continue to carry out insurance and probate valuations, as he has done for the past two decades.
It is a significant change for the firm, but Viney remains proud of Woolley and Wallis's standing in the Fine Art industry and is optimistic for the future:
"I've hugely enjoyed my twenty years as Chairman and am delighted to have played a part in our exponential growth over that time. The key to our success has been the quality of all our staff – specialists, porters, secretaries and the administrators all of who often go above and beyond the what's required. Within the industry we are widely recognised as the UK's leading regional firm of Fine Art Auctioneers and I am very confident that my successor John Axford and his team will continue to take the company forward to yet greater success in the future."
For all Press Enquiries: Clare Durham, +44 (0)1722 424507, cd@woolleyandwallis.co.uk